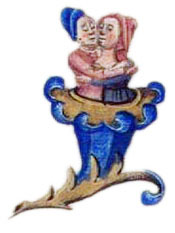 Four of the Loire Valley Chansonniers are available on the web in facsimile editions. They are the Laborde Chansonnier published by Octavo / rarebookroom.org, the Mellon Chansonnier by the Beinecke Rare Book and Manuscript Library at Yale University, the Copenhagen Chansonnier by Det Kongelige Bibliotek and the Wolfenbüttel Chansonnier by the Herzog August Bibliothek.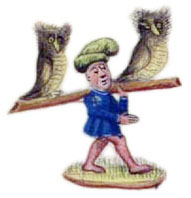 These sites represent a marvelous resource but unfortunately none of them provide detailed indexes linked to the facsimiles of the works contained in the manuscripts. This not only makes finding individual songs tedious but also means that they are poorly indexed by the search engines.
The aim of these pages is to provide detailed indexes sortable by page number, song incipit and composer for the four chansonniers and so to facilitate acces to their contents as well as exposing them to the search engines.
Attributions to individual composers are those given by the sources from which the indexes are drawn. I have not attempted to standardise their varying methods of indicating (or not) if an attribution is definitely established, widely accepted or doubtfull so anything in the 'composer' column should be treated with care.
Select one of the links below to view the indexes
A modern transcription in both original and modern clefing of the Laborde chansonnier is available from the Goldberg Stiftung. They also offer versions of the Pixérécourt and Nivelle de la Chausée chansonniers which (as of january 2011) are unavailable in digital facsimile as well as collections of songs by Busnois, Ockegham and much else.